Friends of Sangam (UK)
Newsletter – Spring, 2020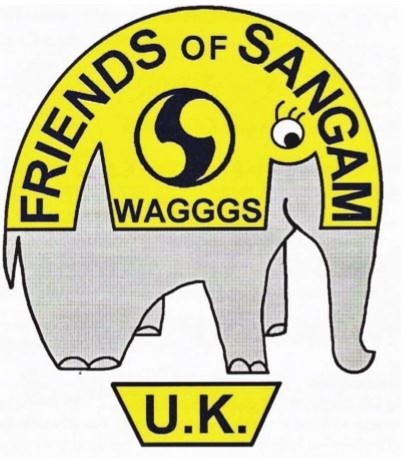 President: Gill Shepherd,
73,Springfield Road,
SOUTHWELL,
NG25 0BS.
e-Mail: gill@shepherdathome.com
Newsletter Editor: Tina Powell,
35, Wavell Avenue,
COLCHESTER,
CO2 7HR.
e-Mail: teptax@aol.com
Fundraising: Diane Davies,
5, Epping Close,
RAINHILL,
L35 0QE.
E-Mail: diane4seasons@googlemail.com
Friends of Sangam (UK) Website: www.fosuk.org.uk
e-Mail: fos_uk@outlook.com
Sangam Contact Details:
Sangam, Alandi Rd, Yerewada, Pune 411 006, India
Tel: +91 960 766 1610
e-Mail: info@sangamworldcentre.orgwww.wagggs.org/en/our-world/world-centres/sangam
The Editor Writes
Namaste!
These are certainly interesting times, for all of us. Spare a thought, though, for Sangam, which, like the other World Centres, is currently closed. Michelle, and her team, are hoping the monsoon season will be able to go ahead, from June, but who knows.
In the meantime, maybe we could all think of fundraising, and promotional ideas, to ensure that everything is able to get back on track, in due course? Perhaps we could sent the odd message, or e-mail, to let the 4 international staff still on site know they are not forgotten – and to give them a rest from all of that watering!
The closing date for items for inclusion in the Autumn Newsletter is 30th September, 2020.
Tina Powell
From the Chair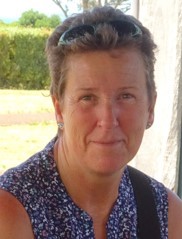 The Trustees had a new experience for their March meeting – we met in a pub! The meeting proved to be both enjoyable and productive.
We looked back at how FOS UK has supported and promoted Sangam, at home and abroad, since the gathering at Hautbois. We also discussed the feasibility of helping to fund various projects Michelle – the Centre Manager – has on her "to do" list.
As Trustees, we very much appreciate the efforts made by members of FOS UK in continuing to support developments at Sangam. We are privileged to be able to manage our charity's affairs and we are excited at what the year ahead holds for Sangam.
I hope to see many of you at the Gathering in Rainhill, on October 3rd.
Trish Halmshaw
Update: That was written before the government issued advice regarding non-essential social contact. The Trustees are optimistic that we will be able to hold the Gathering, but of course we will make the right decision nearer the time and let you know.
**Please send us your email address – if you have one – so that when we do need to contact you, we can keep our postage costs to a minimum. FOS_UK@outlook.com **
In the meantime, stay safe, stay healthy and stay positive.
Trish Halmshaw

From the President
Namaste, Friends!
Wasn't it great to know that FoS UK was able to respond immediately to Michelle's plea for help with securing the boundary fencing, last year – and now the Thinking Day courtyard has been made safe for all to enjoy, too, with funding from us.
I am writing this as the COVID -19 cases go up and the over-70s will soon be asked to stay at home, wondering how to usefully fill my time, and support Sangam too. Finishing off crafting projects and clearing unused items and gifts for a Celebrating Freedom Event as soon as the restrictions end, whilst fund raising for Sangam springs to mind.
Heads on beds is still the best way of helping our Indian home survive the expected economic slump, and I hope some of you will be able to go and enjoy the new pool, gardens and maybe an event – or plan your own Masala visit, which you can read about on the Sangam website. That is what I intend doing next year.
Do write and tell us about any visits or events you have planned.
I hope to meet you in Liverpool at our Gathering on October 3rd, God Willing.
Yours in friendship,
Gill Shepherd
Temporary Closure
Friends, I am sad to announce that, along with the other WAGGGS-managed World Centres, Sangam will be closing, initially for the next two months. We have taken this decision to keep our staff, volunteers, and guests safe, during the COVID-19 pandemic. Currently we do not have a date to re-open.
At the moment, we are planning to be open from June 2020 onwards for our Monsoon season, but we will continue to take the advice of WAGGGS and the local authorities, before making any changes. The Indian government is currently working very hard to minimise the spread of the virus within the country and have closed all borders to foreigners. Whilst this is helping keep us safe, we will obviously not be able to re-open Sangam whilst the restrictions remain. I think that, with the rest of the world, we will wait and see what happens.
In the meantime, I can confirm that all of the volunteers and interns at Sangam have now travelled home and the 4 remaining international staff (myself, Carine, Adele and Louise) will remain in lockdown in Sangam, over the coming weeks. We are working hard to minimise risks to our international and local staff and the wider Sangam family.
At this time, we are also thinking about our friends and supporters around the world. I wish you the absolute best, over the coming few months. Please take all precautions necessary to ensure that you and your families remain safe and healthy and look after each other. Be brave, remain positive and remember that Sangam spirit which can keep you strong. We will be thinking of you and if there is anything that Sangam can do to help over this period, then please let me know. We are here for you! We may be posting some challenges and activities online and also running some Facebook Live sessions. So keep an eye out on our social media!! I think I will use this time to learn some Indian cooking!!
We are grateful for your support and look forward to welcoming you to Sangam soon. All the best in Guiding and Girl Scouting,
Michelle Hughes, World Centre Manager
The Sangam Community Programme
Challenging, self-development, colourful and busy! All common words our previous Tares would probably use to describe their Community Programme experience. We can all use a bit of change and excitement in our lives, every once in a while, right? How about 4 weeks, or 12 weeks, to be precise?
Tare means 'star' in Hindi. As a Tare, you are a part of our Community Programme and volunteer with one of our Community Partners, here in Pune. We understand that everyone is different, so we try to match your interests and skills, to one of our Community Partners.
Beginning in 2004, Sangam's community programme has been running for over 15 years and during this time, we have welcomed both women and men, as young as 18 and (so far) the oldest has been in her early-70s. Anyone looking to beat that record is welcome! This programme offers a unique cultural and international guiding experience, for those who step through our doors: from learning the local language, to discovering what Pune has to offer. Our community Programme is so much more than volunteering your skills and time, but also about discovering your potential and overcoming challenges you didn't think you were capable of!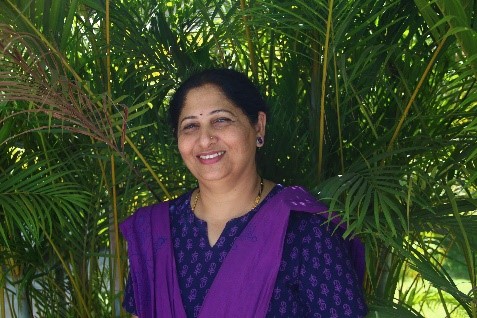 Starting as a receptionist 26 years ago and working my way up to my current role as Deputy World Centre Manager, Community Relations, I have been involved in the Community Programme from the beginning. During this time I have witnessed young girls and women in different stages of their lives, grow, overcome their personal fears and develop lifelong friendships. Mothers and daughters, husbands and wives, develop their relationships and themselves.
You are never too old to become a Tare! We value applicants who have no experience, or background in this area, but also those who are able to share their expertise and their experiences through volunteering.
Become a 'star' in the community; take the leap and surprise yourself! You never know what you might discover!
Programme dates and fees. *Dates are flexible*, so if these dates don't suit you, get in touch with us!
2020 Dates
1 July – 29 July: £1,288 for shared dorm
2 September – 11 November: £3,010 for shared dorm
14 September – 12 October: £1,288 for shared dorm
14 October – 11 November: £1,288 for shared dorm
List of a few Community Partners we offer.
Tara Mobile Crèche: Ensures that migrant construction workers' children enjoy the right to safety, health care, education, recreation and participation. From Delhi in 1969, the Mobile Crèche organization spread to Mumbai, in 1972 and then to Pune, in 1980.
Door Step School: Founded in 1988, by a group of professional social workers, both academics and practitioners. The idea of forming an organisation fully devoted to education was born through experience of working with the public school system and the slum communities in urban areas.
Green Tara Foundation: Focuses on the development of adolescent girls. As future mothers, they are valued as an important part of society. It is important to build and improve their capacities, so they can stand independently and face the future.
Bal Kalyan Sanstha: Founded in 1979, is a recreational and cultural centre for disabled children, in the state of Maharashtra. Children participate in music classes, play competitive sports, on the sprawling green playgrounds, or perhaps swim in the pool.
Maher: A vision where, through sheer love, understanding and caring, distressed and traumatized women and children from rural India, are given hope and the right to a better life, irrespective of caste, colour or religion.
Deep Griha: Meaning "Lighthouse", was registered on 23rd July, 1975 to address the health and welfare needs of the poor and neglected inhabitants of the urban slums. The Society began its work from one small dispensary but rapidly expanded as the needs of the community it served increased.
For more information on our Community Partners, check out: https://www.wagggs.org/en/our-world/world-centres/sangam/about-sangam/community-partners/
Minakshi Yadav, Deputy World Centre Manager
The Thinking Day Courtyard
First of all, I want to say a massive thank you to FoS (UK) for all of your support regarding the Thinking Day courtyard: from the initial idea sparked by Hilary's visit, a few weeks before Thinking Day, to the wonderful end result I see every day.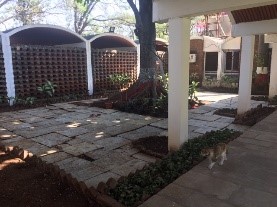 As you know, the slabs in the courtyard had been dangerously uneven for several years and we were looking at ways we could make the area safer but also more user-friendly for guests in the future.
Even though Hilary came up with some brilliant ideas, she did so about two weeks before Thinking Day, which caused me a few hours of consternation! In discussions with Trish, we decided to use the money recently sent by FoS (UK) to refurbish the Thinking Day courtyard and also to re-pave the paths leading to the back of the hall and add one near Dorm 1. A lot of the impetus behind this was to make sure that all areas of Sangam are wheelchair friendly and so the courtyard and the Jubilee Garden are now easily accessible by all.
We went with the builder who had done tiling work for us previously, (we didn't go with the guy who did the other paving as his quote was too expensive), so it was a bit of a leap of faith! We gave him 5 days to complete all of the work as this took us up to the day before the Thinking Day event started. He just smiled and said, "Yes": I wasn't reassured! I would like to say that I hid my concerns from Sharad and Uzma – but I would be lying!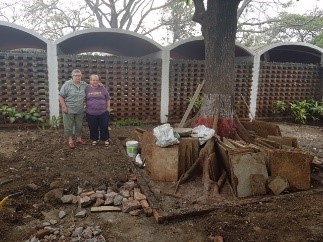 The first activity, after the tiles had been lifted up was to christen the build and we did this by presenting Hilary with her Friends of Sangam pin, from the midst of all of the rabbits! (Hilary can explain the rabbits joke!)
The builder was as good as his word and actually completed all of the work with a day to spare to tidy things up. We then had to let the paving dry for a few days and it was ready to be used. We were all able to walk into the hall along our new paths to the Welcome ceremony, with no fear of tripping up and ending up in a bush, or treading on painful, uneven stones!
Some of the priorities for the build that we included were direct and easy access to the flagpole (instead of having to scramble up some bricks and over a plant bed!); that the tree was left open and that we had plenty of space for plants. It now looks wonderful!
In the run up to Thinking Day, Sharad was like a proud father and closely guarded access to the area. He then arranged for the plant beds to be filled with potted plants (he was very fussy about plant height order!) and for the walls to be re-painted. It looked wonderful and it was really magical to hold our Thinking Day ceremony there!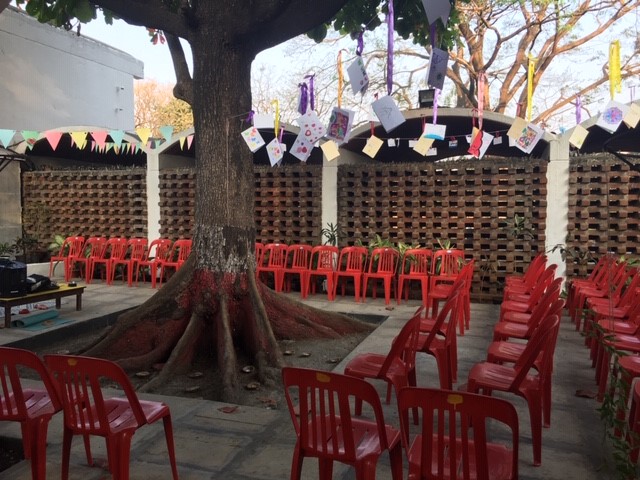 Michelle Hughes, World Centre Manager
Dr Neela Onawale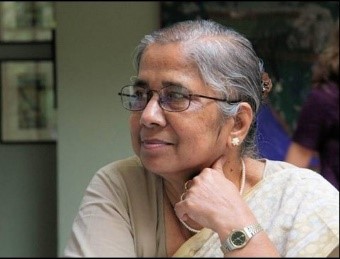 Neela, the founding director of the Deep Griha Society, died, on 23rd February. She had never fully recovered from a stroke, in 2016.
In the 1970s, the First Community Church, in Ohio, decided to sponsor an Indian clergyman, and his family to spend a year with them, in the States. Dr Bhaskar Onawale was chosen, and, when he and his family returned, their new friends asked that they let them know, when they had identified a project, back home.
In Pune, Bhaskar became a lecturer, at the Seminary, and Neela, a qualified doctor, sought permission to open a clinic, in a small back room of their campus home, for those living in the nearby slum. Word quickly spread, and soon, there were crowds – which worried the faculty staff. Neela was told the children must sit, in an orderly fashion, on the lawn: they were not to run around, or climb the trees! Neela and Bhaskar had found their project.

With support from Ohio, Neela initially opened a clinic, near the main railway station, calling it Deep Griha (lighthouse). Increasingly, she realised many of the acute conditions she was treating were the result of poor nutrition, and so branched out, in the first of many expansions.
Today, Deep Griha offers cradle-to-grave support, for many of Pune's poorest communities, and actively empowers women, and children, especially, to achieve their potential. As well as healthcare, the Society offers capacity building, and a wide range of sustainable urban, and rural development programmes. Check out their website, at www.deepgriha.org.
Neela was a truly inspiring woman, always serene – but always with a twinkle, in her eye. She certainly left her mark on the world, and the organisation she founded continues, led by her daughter.
Tina Powell
Sangam Visit, 2020
"How long is a piece of string?" or should I say, "How long does it take to arrange a visit to Sangam?" Well just three weeks after booking my flight, I was setting off from Newcastle Airport bound, for Mumbai!
As I had upgraded on the flight I had extra luggage allowance, so was able to take an extra case full of items made by my craft club members, for various charities I was due to visit. Thank goodness for the internet, as I was able to arrange times for meeting up with friends and to visit the various charities. I was only to have a short time available, so to get this sorted in advance helped me to make the most of my time.
A car arranged by Sangam met me at Mumbai Airport, and after a very busy time getting out of the city, we made good time, arriving at Sangam in time for chai. That first evening it had been arranged for the two Australian tares to experience Indian activities and then the Maharastrian dinner. I was invited to join them, so it was off with the travelling gear and on with the Punjabi suit. The dinner was of course, as usual, delicious, and then we enjoyed an hour of Indian dancing: a mixture of dandyia and bollywood, so I slept well after that!
The next day, I hit the ground running, visiting the shops on and around MG Road, fulfilling some of the orders I had been given. It was good to visit shops and shopkeepers I knew and lunch at Ram Krishna's. Then came a visit to the Laxmi Road area – again, with more shopping to do.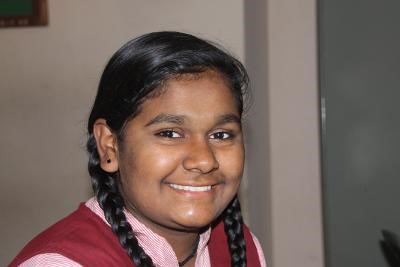 I had been able to arrange with Deep Griha to meet with my new sponsored girl which was a real thrill. She was delightful, with a smile from ear to ear throughout the meeting. Unfortunately, a friend's sponsored boy had been taken to hospital, after eating too many tamarinds, so I was not able to meet up with him. They have children waiting to be sponsored if anyone would be interested.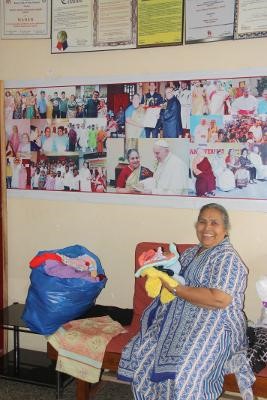 I was then able to meet up with Sister Lucy (right, with some of the toys, and gifts) at the main Maher office in Pune, and when she offered me a return car trip to their centre at Vadhu, how could I refuse? I had lunch there, was able to meet some of the children, who were very excited to be going to see a Bollywood movie that evening, and to watch the sugar cane cutters working around the Maher buildings. At the moment their new project is a new office building and childrens' home in Pune.
On the Sunday morning I set off by local bus, to visit Alandi. After stopping on the way at the Sai Baba temple, I tried to get back on a bus to finish the journey to Alandi. I was not happy when the locals explained that I either had to climb over the wall and drop down onto the main road, or squeeze between the bars to get there. In the end a young boy took pity on me and led me down an underpass and found me a seat in a passing rickshaw – 7 of us, on seats which are usually for 5! I never mind an "exciting" experience for 15 rupees! It was very busy, but I managed to find a space on the steps down to the river to eat my tiffin and watch the world go by.
Meeting up with friends I have been visiting for 15 years was a real thrill: the baker, whose son was home and with whom I had coffee, before leaving his shop with a bag full of his goodies; the family whose "little" girl is now in her second year teaching at a school in Pune; the family I have stayed with and whose daughter, now living in Australia, was home for a visit, and the family who have given me such hospitality over the years, made it a very special visit.
What a special privilege it is to travel so far and to be able, not just to visit places, but also have real friends.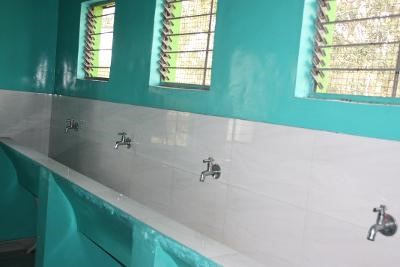 While at Sangam I was able to have a really good look at what we, as FoS (UK), have been able to help achieve, (such as the improvements to the campground ablutions block) and also to see where perhaps, in the future, we can help. It was especially good to see the Thinking Day Courtyard being re-laid, using money we (you) have raised. Keep up the good work!
It was a pleasure to meet up with Michelle and hear some of her ideas of where she thinks she can take Sangam forward. I was also thrilled to spend some time with the other staff and volunteers who were a delightful group of young women. How welcome they made feel. I was even made a special bowl of my favourite, sev kheer.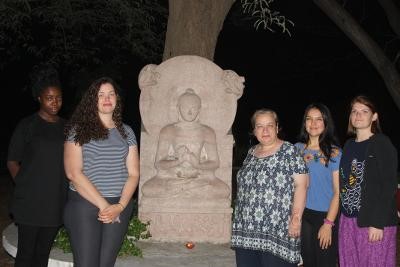 We got together to light a candle and remember a TG member from the south of England who had donated to Sangam and whose ashes were being scattered, at about the same time. It was a thoughtful and moving time at the Buddha by the campfire circle. While I was there, two Guiders from Manchester with their husbands, and then two TG members from the Midlands arrived, so forms to join Friends of Sangam (UK) are on their way to them!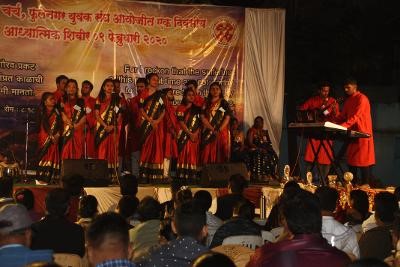 Phulenagar's hymn competition
After my 8 nights there, I was sad to leave, but enjoyed my two nights in Mumbai before flying home.
If you are wondering about a visit, and can't find a group to go with, why not find a couple of friends and contact the Sangam staff?. They say, "Get to Mumbai Airport and we will arrange the rest for you". They can pick you up, arrange things for you to do while at Sangam and then arrange an onward tour for you. Why not look into it?
Hilary Taylor
Friends of Sangam (UK) Annual Meeting
Hautbois, September 21st, 2019
Welcome – Trish Halmshaw
Trish Halmshaw, as President, welcomed those who had come to enjoy the weekend, and attend the AGM at Hautbois.
Present
Trish Halmshaw (President), Victoria Bagshaw(chair), Anne Allery(treasurer), Hilary Taylor (secretary), trustees Christine Doughty, Alison Lund, Trish Robinson, Gill Shepherd, Susan Westwood and Margaret Horseman (vice-president), and members of Friends of Sangam (UK).
Apologies
Apologies and good wishes for a successful meeting were received from several members unable to attend.
Minutes of the last Annual meeting held at Liverpool
These had been distributed to all members in the newsletter and were agreed and signed as correct.
Matters arising
The position regarding the changes to the constitution were explained by Hilary Taylor and the new constitution was signed and dated by Victoria Bagshaw and Hilary Taylor.
Correspondence
There had been letters of good wishes from members. It was not possible to make contact with Sangam to receive their latest update, because of internet problems, but that would be sent to members through the newsletter once it was received. The position regarding the monsoon damage had been sent through social media.
Annual report – Victoria Bagshaw.
This was published in the Autumn newsletter.
Financial Report – Anne Allery
The Treasurer's report was published in the Autumn newsletter.
Adoption of reports
The adoption of the reports was proposed and unanimously agreed by the meeting.
Appointment of Examiner – Anne Allery.
Anne Allery proposed Sara Hall as examiner for the coming year and this was agreed unanimously by the meeting.
Election of Trustees – Hilary Taylor
There was one nomination for trustee and chair, which was Trish Halmshaw. The trustees' meeting was pleased to agree her in this position, and she will relinquish her post as president at the end of the AGM. Victoria Bagshaw and Gill Shepherd will complete their two three year terms as trustees and must therefore leave the committee. Trish Robinson and Christine Doughty complete their first three year term and Christine Doughty has agreed to begin her second term as trustee. Rachel Smith has completed her extra year as trustee. It means therefore that there are now six trustees as per the new constitution. Thanks go to all trustees who have given their time and expertise during their time in office.
Reports
Newsletter – Tina Powell
There was an appeal for more items to be included in the forthcoming editions of the newsletter. Tina Powell was happy to continue as editor.
Fundraising and Trading – Diane Davies
Trading report 2018
Once again the trading stall has been well received during 2018 with plenty of visitors supporting us at the National Trefoil Guild meeting in Birmingham, when they found us on the top floor, but we went home with an empty suitcase. We also attended NW England Trefoil Guild meeting in Sandbach and the Midlands International Day where the stall again was a sell-out. Trefoil Guilds on the Wirral, and Brownies and Rainbows from Cheshire Forest and Wirral supported the stall after enjoying the Sangam Experience evenings we led.
A group of 20 Guiders on the Leaders' Retreat Weekend at Waddow fully took part in the Sangam Experience session, and we look forward to fulfilling the requests to take this event to their units and Guilds during the year.
Our second year at Wellies and Wristbands at Waddow saw an increase in Guides and Adult Visitors to our Sangam Quiz and craft table where they made a Warli art bookmark. The large soft toy tiger was won by one of the Guides on camp …she had to guess the tiger's birthday correctly. Thank you to Veronica and Sylvia for their help at this event, chatting about Sangam and their travels there as well as helping me to sell on the stall. This year we decorated the FoS (UK) tree at the Waddow Christmas Tree Festival with lots of sparkle, and sold some of the Sangam story books.
The Gathering at Liverpool this year saw the new selection of jewellery on the stall which has been popular, and I have even posted out the jewellery orders from the Facebook page. Thanks to my sister Ruth for her help at the major events, and at Liverpool.
We are looking forward to introducing Sangam to new places around the country in 2019 and your continued support is really appreciated ….look out for new pens and jewellery in 2019.
Fundraising 2018
Wow what a super year for our fundraising. Thank you to all members who make things for our fundraising stall running alongside the Trading stall, donate unwanted badges, saris, trinkets etc. and work silently in their areas, fundraising for Sangam. It is lovely to have different items on display for selling to regular customers at the events we attend.
The challenge I set, to sell a square on Sangelee the elephant brought In a fantastic amount of money and has been added to the pot to send to Sangam for their projects this year.
At the Liverpool Gathering members were given a cupcake case and challenged to make cakes and raise lots of money for 2019, and I hope you enjoyed this challenge. …I know elephant ginger biscuits, cup cakes, fruit cakes and scones were baked around the country.
If you watch our Facebook page you will see that there have been requests for money to be sent to repair the walls damaged in the monsoon, and with your fundraising we have been able to support this plea, Thank you.
Now for your challenge Sept 19 to Aug 20 … Sangam is looking to add to their solar panels, and this time I have a picture of a panel with 16 smaller panels within it for you to sell to your friends at a £1 donation, and money should be sent to the treasurer with a note saying "SOLAR PANELS". If you would like to give a small prize, find something from your cupboards like an unwanted gift, box of sweets or bottle of wine then number the small panels and pick a number then that person wins your prize.
c.Membership – Gill Shepherd
The year ended with a total membership of 386, which included 7 new members that year.
There were 347 fully paid up ACTIVE members.
34 SUSPENDED members – these may just be overdue and in need of a renewal reminder form.
We have 5 people listed as "unknown" as they don't want to be members, but do want to support Sangam.
There are 53 inactive members who await deletion, following the Gift Aid claim. Of these members, 36 were Juniors, 7 Trefoil Guilds, 5 Associations and 5 overseas members.
The figures today, 21/9/19, are 353+3 in total with 322 active, 29 suspended, 5 unknown and 84 inactive as we continue to sift out those who have received three newsletters since their membership ran out.
It should be noted that there are still some people not paying the revised fee of £10. If you think it may be you I can check later.
d.FoS Junior – Gill Shepherd
We have now 32 active units, 3 were new last year and 7 are due to renew now. Southwell Guides have been fundraising for us by having cake sales, they made £35. There is a picture on our notice board, I hope they will get a page in the newsletter next month, as it may inspire other units to do their bit to support Sangam, nothing like a bit of competition.
I am still looking for someone to write a Junior Newsletter – Any offers?
e. Publicity – Rachel Smith
There was no formal report but, after an appeal by Trish Halmshaw, Tina Powell offered to take over the website, and she and Trish will agree, in the near future, what is needed.
AOB
Trish Halmshaw thanked those trustees who were completing their terms of office, and also Margaret Horseman who was completing her term as vice – president. She presented them all with a card and small gift. Hilary Taylor thanked Trish for all she had done as President, and wished her all the best in her new role in Friends of Sangam (UK). Trish Halmshaw then announced that Gill Shepherd had agreed to be President.
Votes of thanks -Trish Halmshaw
A vote of thanks was given to all those who had worked to organise this Gathering and Trish looked forward to meeting up again, next year.
Date venue of 2020 AGM
This will be announced in the Autumn newsletter.
Funding Support for Sangam
Funding support is always needed, but especially now, as the global pandemic will result in a considerable loss of income, and, doubtless, fewer guests, in the short term.
Looking to the recent past ….
Emergency funding was needed when part of the boundary wall collapsed during exceptional monsoon rainfall. We quickly aranged to help pay for the installation of a fence to secure the Sangam site.
The Thinking Day courtyard paving stones had become very uneven. We provided the cost of the complete refurbishment of the courtyard, in time for the celebrations of World Thinking day 2020.
Our funds also paid for improvements to other paved areas to allow smooth access to the Lady Ratan Tata Hall and the Jublee Garden.
Looking forward to possible projects…
Waterproofing, painting and replacement windows for Lady Ratan Tata Hall
Refurbishment and upgrading of playground
Installation of handrails for accessible shower
Installation of safety equipment in pool and surrounds
Refurbishment of Jubilee Garden
Solar panels to provide green energy – but this may be a project for the far future!
We will await confirmation from the Sangam staff regarding priorities and costs.
Magic Masala, 2021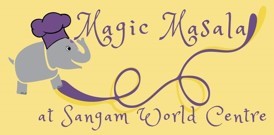 I returned from a trip to New Zealand, just before the coronavirus started to spread.
I had spent a few days with Lynda Spittle, one of my Programme Assistants, from my days as Programme Manager at Sangam. As you might imagine, we did a lot of reminiscing, but also looking to the future. Lynda is planning to take a group to Sangam, in 2021 and so am I!
We were thinking about March, 2021 for our combined event: a Magic Masala – or special event – with an element of service project, of some kind. Unfortunately, the coronavirus then became a pandemic. I know the ramifications will hit Sangam hard and "heads on beds" numbers will no doubt decrease, as least in the short term.
All the more reason to be thinking ahead and encouraging people to visit, when the travel restrictions have been relaxed!
So, I am in touch with Sangam, now and starting to plan. The options for Masala Magic are many and varied and we can tailor-make our own programme.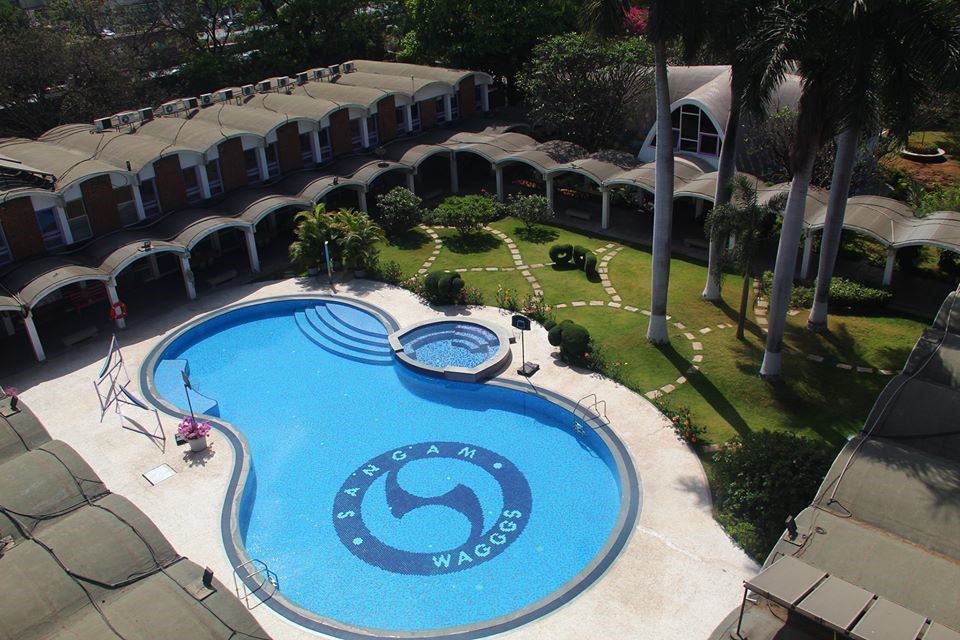 If you would like to receive more information as it becomes available, please contact me, via email, at trish.halmshaw@gmail.com
Trish Halmshaw
FoS (UK) Committee, 2020
Back row, L-R: Hilary Taylor; Susan Westwood; Alison Lund
Seated, L-R: Gill Shepherd; Trish Halmshaw; Christine Doughty; Anne Allery
FoS (UK) Trustees, Spring, 2020
For contact details, please e-mail: fos_uk@outlook.com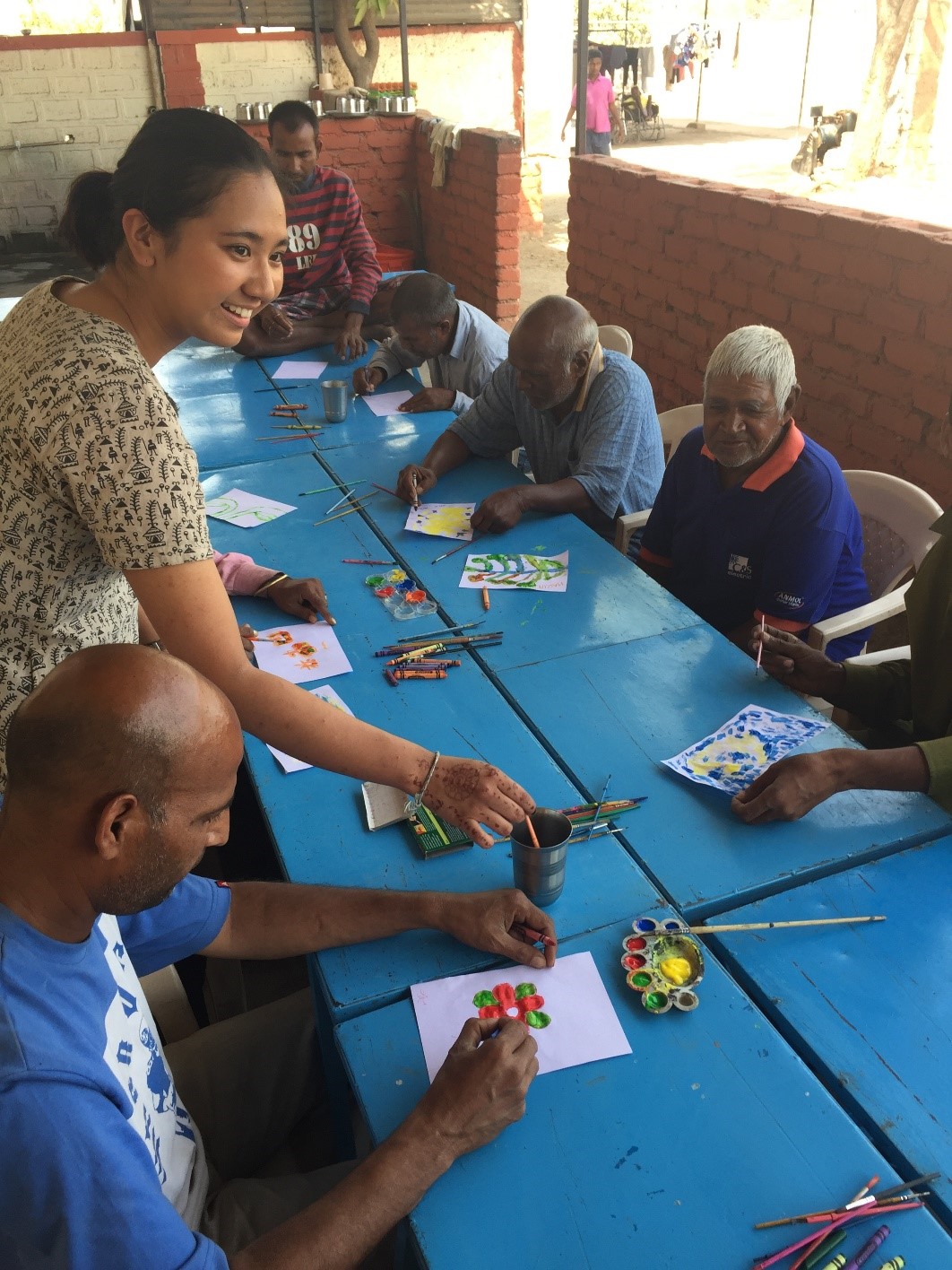 One of the previous Tares, working on her project