Sangam's swimming pool has been operational since 1974 and is a great place for volunteers, guests and staff to relax and connect! Since then repairs have been undertaken for various issues, but the pool still has the original concrete shell and is finally showing its age.
Currently the pool is leaking water along a major crack that has developed through the width of the pool and Sangam now needs to completely rebuild the pool. In 2014 Sangam launched a campaign to raise funds which Friends of Sangam (UK) has been actively supporting.
More information about the campaign can be found here, and there are several ways you can support this campaign, some of which we've listed for you here…
A donation of £100 will buy a tile in the virtual Sangam Pool
We are selling Junior Friends multi-writer pens for £1. The pens come in four colours: blue, red, pink or purple and have three coloured inks (red/black/blue) in one stylish pen. You could perhaps use them as gifts for your units or Leaders.
If you could like to order any of these pens please contact Gill Shepherd, 73 Springfield Rd, Southwell NG25 0BS. In your order you will need to include the number of pens you wish to order and the colour. Please also enclose a cheque payable to Friends of Sangam (UK) including the cost of P&P. This is £1 for up to 8 pens and £1.50 for 16 pens.
Update: So far we have been able to buy three tiles for the pool by selling these pens and we are hoping to have bought another three by September!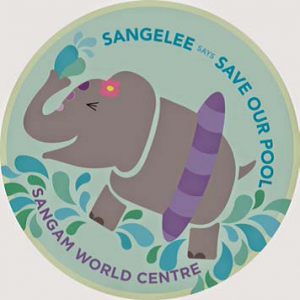 Friends of Sangam New Zealand have written a Pool Challenge badge. If you would like a copy of the challenge badge please email Gill on gill@shepherdathome.com. We also have the badges available to purchase by contacting Gill.