Members couldn't have wished for a sunnier welcome to Waddow Hall on a perfect autumn day, but even the autumn colours outside paled when the doors opened on the incredible décor in the hall garlanded and draped in saris of many colours with a male and female manikin again beautifully attired in Indian dress it really was the most impressive entrance. Following a traditional Lancashire hotpot dinner members gathered in the Three Counties room to hear Hilary Taylor relate tales of the witches of Lancashire.
S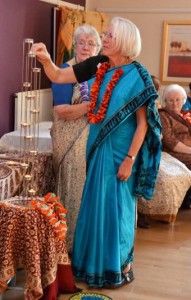 aturday was yet another beautiful day with the sun blazing through the windows adding to the colourful assembly of members in their saris and Punjabi suits. Liz Aveston explained the significance of the welcome ceremony before members received the symbols of turmeric, rice, coconut and sugar from the puja tray.
Margaret Wellock then opened the AGM with a prayer. President Jane Wardropper gave her address and reviewed the past year. The Trustees were introduced to the assembly as some had commented they were unable to put names and faces together. Jen Barron, World Centre Manager at Sangam, and Friends of Sangam from overseas had sent greetings which Liz placed on the notice board for all to read. As the various trustees gave their reports it became apparent how even though many of us have not been to Sangam in the recent past the spirit is still very alive in FOS (UK) members.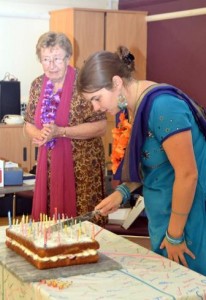 After a delicious Indian lunch the stalls were opened and we were able to spend, spend, and spend. There was an opportunity for catching up with friends and acquaintances over a welcome drink and a piece of Sangam's 48th birthday cake.
The staff at Waddow really excelled in the food they presented so when the evening's entertainment began some of us rather wished we hadn't eaten so much – but it was hard to resist. Our entertainer entitled his act as Dance Around the World and took us firstly to India and then to America and Brazil. We then joined in the inevitable Conga and ended with the Hokey Cokey.
Sunday was another brilliant autumn day which was fortunate as Margaret Wellock had organised a variety of local walks, a visit to the castle or a trail and quiz. All too soon it was time for lunch, which was, what else but roast beef and all the trimmings. How quickly the weekend had passed and it was time for the closing ceremony followed by many goodbyes and see you next year. There was no doubt that the gathering had been a memorable event and we give our sincere thanks to Margaret Wellock and her team.
 We look forward to seeing you next year in Colchester.
  Written by Barbara Graham