The Trustees decided at the Gathering at Whitby in September 2016 that it would be a good idea to try a different approach t the Gathering in 2017. We might attract more supporters if we offered just one day in a more central venue that was easy to access by public transport. Plans were made for an Activity and Information Day, to be held at Trefoil House in Birmingham. 60 ladies registered for the day, not all members of F.O.S. (UK).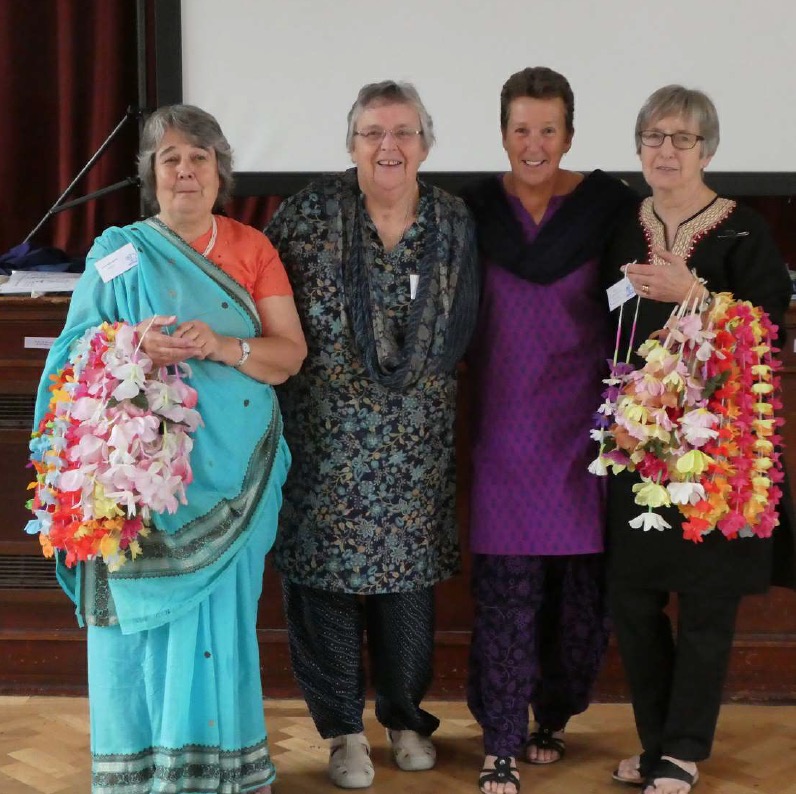 There was a traditional Sangam Welcome Ceremony and a large number of activities were on offer which Guiders could take back to their Units. They could make bracelets, bags out of T-shirts, colour snakes and elephants, put on saris, do a quiz about India and Sangam and play Kim's game amongst other things.
Before lunch, most of us were taught how to do Bhangra dancing.
We said "Goodbye " to Hilary Taylor who was flying to Delhi for the WAGGGs World Conference and thought about her taking off as several of us who were staying overnight were enjoying an excellent Indian meal in a restaurant in the City centre. Alas! Her flight was cancelled and Hilary spent an unexpected extra night in Birmingham. We heard later that arrangements were made for her to fly out the next day and just make it in time for the opening ceremony.
A light lunch of either chicken or vegetable curry was very popular and activities resumed in the afternoon. Before the Annual General Meeting, Victoria Bagshaw gave a presentation about the visit several of us made to Sangam, for the amazing 50th birthday celebrations.
Although the day was intended to be for information, a recruiting day and an opportunity to hold the Annual General Meeting, a substantial amount of money was also raised for Sangam. This was as a result of sales and a raffle.