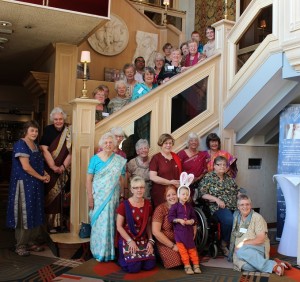 A glance at the application form for the weekend might have lead you to believe that you would be staying in a small half timbered hotel with associated primitive facilities. However this was a picture of the Old Siege House, one of the many historic buildings in Colchester.
The  Marks Tey Hotel, a Best Western, was very different! The rooms were spacious and comfortable – I have never seen curtains draped quite like those in our room – and there was plenty of parking. Tina had made several planning visits and double checked all the details while we were there but it did seem that the Management team did not communicate with their staff "at the coal face" and there was some confusion about our community rooms. This made it very difficult for Tina to carry through her original programme plans.
On Friday evening we shared a dining room with a coach party from Swansea. Consequently we could not use this room for our evening activity and, as our numbers were small, we took the opportunity to chat and catch up with Friends in the lobby. Our new member, Marcos from Brazil, told us a little about Scouting and Guiding in his home town.
We enjoyed a cooked hotel breakfast and, after some confusion, the hotel staff rearranged the room into Annual Meeting format (including a table for coffee!). A few members, including 3 year old Willemena, joined us for the day taking the number attending up to 29. After the AGM we were moved, again, as we were to be joined for lunch by another group. We now had a small "conference" room with not many chairs, but it was ours for the rest of the weekend. Tina had organised a wide game but the space did not really lend itself to that – perhaps this was a "Narrow" game! We started with a quiz which appeared to be mathematical, to Hilary's concern, but was really more logical with a twist in each question. After that some people managed to pack over 50 items of clothing into a small rucksack while others completed Word Searches and Dingbats.
In the tradition of the Sangam gathering we donned our Indian garments for lunch and must have caused a stir amongst our fellow guests. The hotel was also hosting two weddings! After an Indian lunch many members did their own thing – including walking nearby and swimming in the hotel pool.              
The evening meal was again shared with the coach party from Swansea, but this time the hotel had managed to lay up the right numbers for each party and the staff were very attentive. After dinner we retired to the small conference room and some of us stayed up for a Sangam Song book sing song. The weekend then closed after breakfast on Sunday leaving us time to explore Colchester before we set off on our journey home.
The numbers attending the weekend were far fewer than those attending in recent years but most of us agreed that it did give us a chance to chat with more people and get to know each other better. We all have Sangam in our hearts and this weekend gathering presents an opportunity to re-live past visits and to hear of updates in India, to renew friendships and make new ones.
Big thanks go to Tina for arranging the weekend and keeping calm when we were being moved from pillar to post.  Despite the small numbers the sales and tombola raised over £500.
Judy Paginton