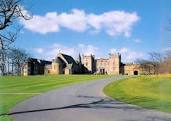 Our 2016 AGM and gathering will be held at Sneaton Castle Centre, situated on the edge of the historic, picturesque seaside town of Whitby.
We have booked Bede Hall for our activities and standard rooms which are well serviced with bathrooms, showers and toilets.
The total cost of the stay will be £120 and a non-returnable deposit of £25 will need to be paid by 30th April 2016 if you wish to attend. With the full balance due by 1st July 2016.
If you wish to attend please complete this form and return it with your deposit and a SAE to : Jean Sutherland, 87 Colburn Lane, Catterick Garrison. N.Yorks DL9 4NX.
We look forward to seeing lots of you in Whitby!